Did you know that January 9th was National Law Enforcement Appreciation Day? On this day set aside to recognize officers, everyone has a chance to thank those professionals who put their own safety at risk to serve the public. And if you have ever looked at them with respect and admiration, maybe you also wondered if you could cut it in law enforcement.
These jobs, including police officers, security guards, sheriff's deputies, correctional officers, and others in law enforcement are open to a wide variety of people. What those who pursue law enforcement careers have in common is a desire to serve the public, to contribute to public safety, and to have a job that is more than just a job, that is meaningful and useful.
Careers in several areas of law enforcement are currently growing, offering more opportunities for those individuals who are willing to take the time to go through appropriate training. It doesn't take a lot of schooling to be ready for this kind of career. Most criminal justice programs take two years or less to complete. In some cases, there are additional certificates or examinations that you have to complete but acquiring an associate degree can be a way to get your resume to the top of the applicant pile. f you have been thinking about getting into law enforcement but are still weighing your options, consider these reasons that people working in this field love their jobs.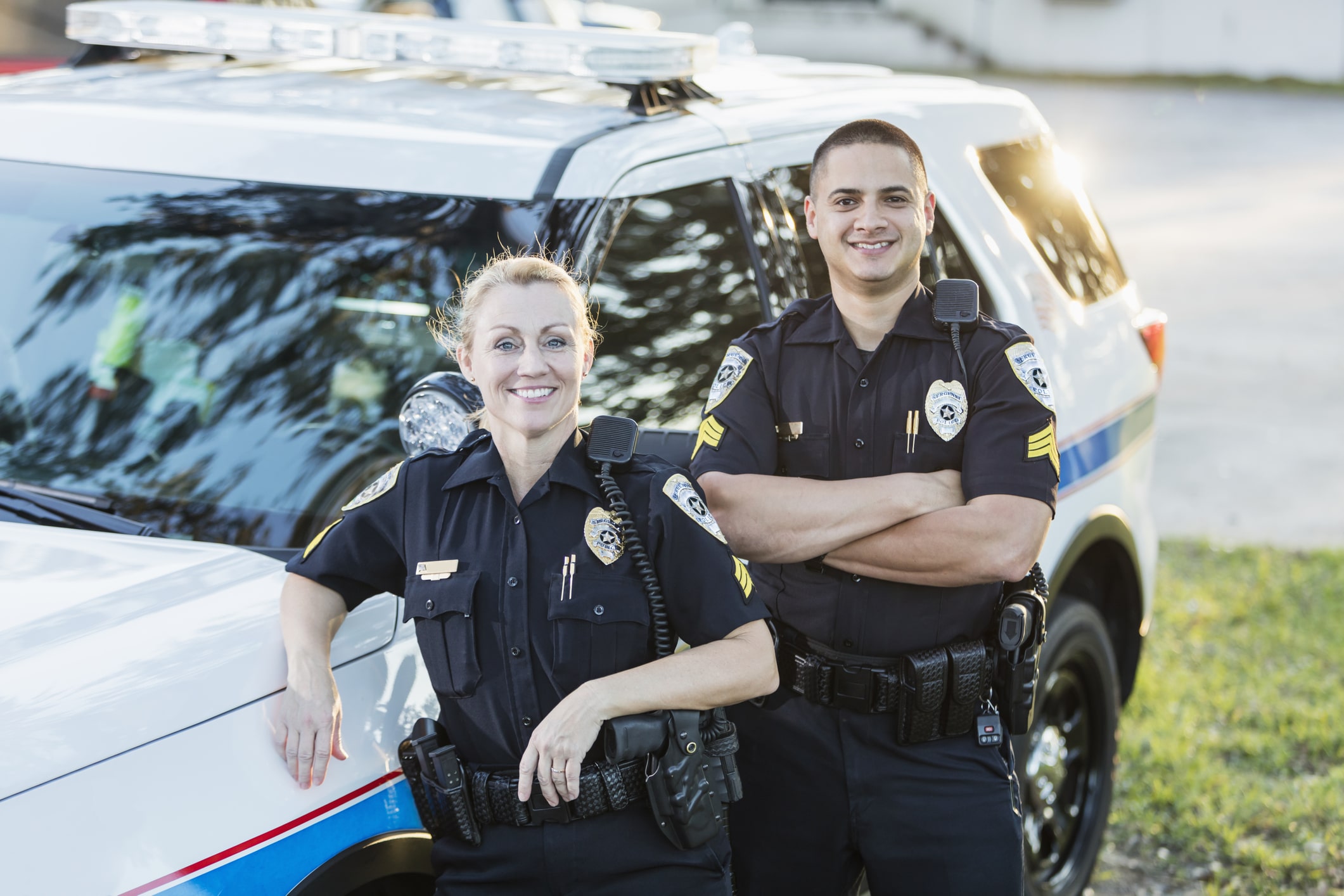 1. You can actually save lives working in law enforcement.
There are few more compelling reasons for wanting to do this work than the ability to save lives. Few careers will give you that opportunity, which makes this kind of work among the most meaningful job that anyone can do. Alongside firefighters, EMTs, and doctors, you can save lives doing the work you have been trained to do when you work as a police officer, sheriff's deputy, security professional, or state or federal agent.
Expanding that fact, it's also important to remember that even when a law enforcement officer has not directly saved a life in this line of work, his or her hours on the job have protected people. For meaningful, important work that has a real impact on people every single day, it's tough to do better than law enforcement.
2. In law enforcement, you can make an impact right in your community.
In this line of work you also have the opportunity to make that important impact on people right where you live. Many people choose to work where they live, which makes this kind of career even more meaningful. If you work as a police officer, for instance, even when you are not actively saving lives, you are working toward making your community a better, safer place. You have a true effect on the daily lives and experiences of the people who live around you. A lot of law enforcement work is related to reaching out to the community and strengthening relationships so that crimes and harm to people and property can be prevented.
3. Law enforcement careers are never boring.
If your current job is repetitive or rote, or if it doesn't allow you to problem-solve or make decisions, it is probably boring. What you get with a career in law enforcement is the exact opposite of boring. While there may be slow days, every day on the job in this field has the potential to be exciting and interesting. Officers and other law enforcement professionals have to be prepared for anything to happen any day on the job.
In addition to actual, adrenaline-pumping action, these jobs are also interesting because they require you to think on your feet. You will have to make quick decisions after analyzing a situation and determining the best solution to a problem. That problem is likely to be different every single time, so you can't possibly get bored. There may be some desk time and paperwork in law enforcement, but in general, this is not a desk job.
4. Earn a great salary in law enforcement.
If your current job has you slogging away for minimum wage or barely more than that, it may feel like you can never get ahead or save. A job that requires training or a degree will cost you a little more upfront, but the eventual payout is well worth it. This is certainly the case for careers in law enforcement. As a police officer, for instance, the average salary is $34,970, while detectives, transit officers, fish and game wardens, and sheriff's patrol officers make, even more, up to $78,000 per year. And with the field always growing, you can be sure that you will be able to find a job soon after finishing a program.
5. Many types of law enforcement jobs come with great benefits.
Salary isn't the only number to consider when choosing a career. You should also look at the benefits offered. Every agency will have different offerings, but most police departments and state and federal law enforcement agencies offer competitive benefits. For instance, most law enforcement officers get a pension or other type of retirement plan and the opportunity to retire earlier than in many other professions.
Other benefits that many people in law enforcement can expect to receive include extra pay for holidays and overtime work, an allowance for tuition to pursue an advanced degree, increased pay or bonuses for being on call or working irregular hours, and generous and comprehensive health insurance plans that cover workers and their families.
6. There is room for career advancement in law enforcement.
Because of how law enforcement agencies are structured, with a chain of command and several levels of authority, there is plenty of room to work toward a higher position. By advancing through the ranks of a police department or other agency, you can earn a larger salary, more benefits, and greater respect with more responsibilities.
With the chance for advancement, you also get the opportunity to challenge yourself. You can choose to work up to a certain position, such as sergeant, or go all the way to the top of a department. The ability to advance is only limited by your own willingness to work for it. On the other hand, many officers in law enforcement are satisfied to stay in one position for their entire careers. There are many different options for how a career in this industry progresses.
7. You can work anywhere in law enforcement.
Law enforcement is needed everywhere in the U.S., from the smallest town to the biggest cities. While different states and agencies have different requirements for officers and other types of law enforcement workers, the prerequisite education is similar. You can choose where you want to work, staying in your home town or moving out of state for new adventures.
You can choose between small-town police departments, county-wide sheriff departments, federal agencies, state agencies, big-city police departments, and private security and protection positions. Whichever specific type of law enforcement job you choose, no matter where you go there will be a need for trained professionals.
8. Communities need more women in law enforcement.
If you are a woman, you are needed in this career. On local police forces, only about 12 percent of officers are women. That number is higher in big-city departments and lower in state and federal agencies. Most experts in law enforcement agree that communities and public safety could benefit from having more women officers and in command in departments. There is evidence that women in these positions use less force and are better able to use communication to de-escalate tense situations. A more diverse force also helps departments and agencies relate to and serve their diverse communities. As a woman trained in criminal justice, you could be a very desirable candidate for many positions.
These are just a few of the excellent reasons that law enforcement should be on your list of possible future careers. When you're ready to explore this option further, take a look at the criminal justice colleges in Florida. Spend some time finding the one that works the best for you. Look for programs that offer flexible class schedules, affordable tuition, and locations and campuses that are near you.
A good law enforcement program should have courses in law, criminology, crime scene analysis, computer crimes, and other subjects important to working in law and criminal justice. It should also have instructors with experience working in law enforcement and an emphasis on analytical problem-solving. If you're ready for a career that is meaningful, that has room for advancement, and that really makes a difference, find the best criminal justice program in your area.